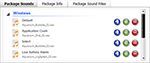 SoundPackager is a vital tool useful for customizing your system sounds with theme based sounds package.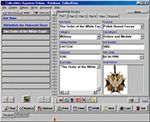 Collectibles Organizer Deluxe will take care of organizing, cataloging, and managing all collectibles on their PCs.


Star Watermark for Mac review
Price

$0.00

Publisher
www star-watermark com
File size
1700 KB
Date reviewed
4 May 2016

Star Watermark for Mac, allows you to add text or image watermarks to your images, photos and graphics.
With this reliable watermark software you can prevent people from using your photos or images without your consent, stamp it with a watermark to make it your copyright property. This fully functional software is capable of virtually adding a text or image watermark to your images, photos and graphics within seconds. This tool makes an ideal choice for digital camera owners, professionals and beginners or graphic artist on Mac OS X. With this tool is possible to add Rotation, Transparency, Text Size, Text Color, Position, Text Shadow, and so on to your photos. It is also useful for: batch watermarking images, real-time preview option for your photos, build your company brand, by having your company logo on all your images, and much more.
Star Watermark for Mac, this amazing software with its simplicity and efficiency has made watermarking process very easy.