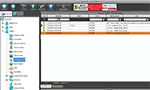 Personal Monitor, this capable software has the ability to monitor user activity that includes activity on social networks too.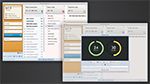 TeamViz for Linux, the effective software is ideal for planning and task tracking, with the help of Pomodoro Technique.


ColorVeil review
Price

$0.00

Publisher
Aurelify Playground
File size
59 KB
Date reviewed
29 May 2016

ColorVeil is an ideal application that can create color filter on your desktop display.
With this unique software, it is possible to add a color filter to view the - desktop, Internet browser, video player, document, website, or program and everything else that you see through the display in the given color. Everything displayed on the screen will look covered in the chosen color. The features supporting this application are: ability to choose a suitable color for your mood, ability to experiment with some colors, support for custom transparencies, display could be dimmed reducing the brightness helping save the battery, you can create screencasts or presentations, ability to add an interesting color filter to the video output, ability to set it up in the stealth mode so that it will vanish from the taskbar, and much more.
It also support: left-click icon in the system tray to toggle the veil, middle-click to set a random color, and right-click to open the settings.