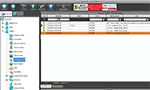 Personal Monitor, this capable software has the ability to monitor user activity that includes activity on social networks too.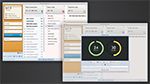 TeamViz for Linux, the effective software is ideal for planning and task tracking, with the help of Pomodoro Technique.


Imagelys Picture Styles review
Price

$0.00

Publisher
Jean Bernard Roussilhe
File size
152300 KB
Date reviewed
27 July 2016

Imagelys Picture Styles is a useful software eligible for creating various stylish graphic images with minimum time and effort.
Is an effective and easy to use application for creating stylish images and high end graphics. The handy software allows creating stylish backgrounds for your desktop, web pages, original wallpapers, textures for 3D models, skins for your favorite programs, and much more. It is also possible to generate seamless textures depending on mathematical formulae's and can be used along with ready-to-use effects like the; generators, deformers, filters, color adjustments, special FX and masks for transparency. It supports other features like: creating smart random images, multiple undo/redo, selection tool, ruler support, Spherize function, artistic blurs, ripple effect, Image warping support, 3D preview render, and much more.
This program also supports the resynthesizer tool and can save your images in: bmp, jpeg, jpg, gif, png, and jng formats and.