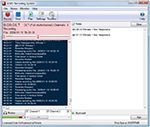 MSRS Court and Conference Recorder is a standalone tool with utmost quality for recording conferences, court proceedings and similar multi-speaker forums.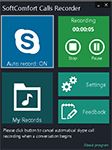 Calls Recorder, will get your Skype conversations recorded with faster and assured quality output.


Syncro SVN Client review
Price

$59.00

Publisher
Syncro soft
File size
38200 KB
Date reviewed
31 July 2016

Syncro SVN Client for easier sharing of document and code between content authors or developers.
With this very simple and easy client for Subversion code management, that makes it easier to communicate with the SVN system and share document and code between content authors or developers. This application provides full SVN repository support: checkout, export, import, copy, mkdir, rename, branch, tag and delete. It also provides support for browsing repositories, checking for changes, committing changes, updating your working copy, examining the revision history in tabular form or as a revision graph, viewing the svn annotations, and integrating it with bug tracking tools. The tool also allows: examining the history for a selected resource, examine changes after a synchronize operation for text files or image files in a Compare View, and more.
This fast and reliable utility supports file transfer protocols like - the HTTP(S), SVN, SVN+SSH and FILE protocols.