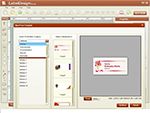 Label Design Studio, this useful program allows you to design and print professional shipping labels, name tags, mailing labels, hazard labels, CD labels, and so on.
CloneDVD Studio Free MP4 Converter is the most ideal and convenient tool for converting video files to MP4 format.


Perfect Keyboard Free Edition review
Price

$0.00

Publisher
Pitrinec Software
File size
12800 KB
Date reviewed
21 March 2017

Perfect Keyboard Free Edition, this handy application has the ability of typing repetitive phrases by simply typing a short form.
This useful tool makes it easier to type repetitive phrases in short form. With this application, it is possible to save your precious time by typing the common phrases you use repeatedly, or wrongly. The tool also is capable of assigning repetitive tasks to your PC by automating the repetitions for you. This useful application is characterized with the features like: words and phrases auto-completion, option to create a file of frequently used phrases, paragraphs, e-mail addresses, macros, clipboard entries, scripts, and much more; support for macro reading, support for visual editing tools, macro editor support for creating new macros, support for more than 170 in-built macros, and much more.
Perfect Keyboard Free Edition, supports Microsoft Windows 10, 8.1, 8, 7, Vista, XP, 2000, and their server.