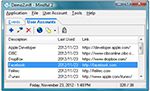 Mindful, the multi-functional tool serves you with an event reminder, password manager and many related tools into a simple system tray application.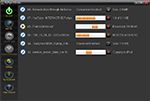 RipTiger Basic, with this smart and handy application it is possible to download videos easily from the web.


Home Image Effects review
Price

$14.95

Publisher
Cristallight Software
File size
10200 KB
Date reviewed
25 March 2017

Home Image Effects, the amazing tool that allows to apply artistic eye-catching effects to your photos.
Make your photos look great with this tool that has the capabilities to transform images to amazing creations. With this effective image processor you can apply various effects to your photos. The tool majorly supports more than 100 Core Image Effects and Filters from Apple Macintosh OSX or our custom filters for image manipulation. This tool can - transform, crop, noise, tiled, RGB, grey-scale, bright, contrast, tint, twirl, bump, pinch and much more. It includes various features like: core image effects, OpenGL effects, custom image effects, files can be saved to popular image formats, easily rotate image by 90 angle, flip image, resize image, and much more.
Blend your favorite photos with beautiful effects with this amazing tool that stands as a peer in the crowd.