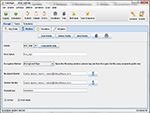 AutoKrypt, the perfect auto data encryption and decryption software suitable both for corporate and home users.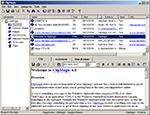 ClipMagic Lite, this smart clipboard extender and management software can enhance the power, function and storage capacity of your clipboard.


CryptoForge review
Price

$29.95

Publisher
CryptoForge Encryption Software
File size
4800 KB
Date reviewed
11 August 2017

CryptoForge is useful to safely store and transmit files or messages on an insecure media or network.
The fully functional file encryption software for personal and professional security, provides strong text-based encryption algorithms for your vital data. This amazing tool can securely store all your vital data in an encrypted form on insecure media, and also safely transmit data over insecure networks. It creates encrypted disk volumes with strong encryption algorithms: 448-bit Blowfish, 256-bit Rijndael (AES), 168-bit Triple DES, and 256-bit Gost encryption data security. It also includes the file encryption module to encrypt, decrypt, and shred files. This application also supports: the built-in file shredder, the text encryption module that includes a secure text editor, powerful compression methods, and so on.
The file encryption module handles files of any type and size, on any kind of medium, like hard drives, removable drives, USB PenDrives, and so on.