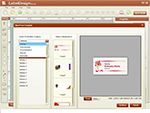 CD Label Designer makes it easier to design and print professional shipping labels, name tags, mailing labels, hazard labels, CD labels, and so on.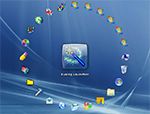 Eusing Launcher is a smart and capable software for launching files, programs and applications smoothly and quickly.


Visions review
Price

$0.00

Publisher
Twins Solutions
File size
6138 KB
Date reviewed
8 April 2008

Visions, the multi-functional utility that allows you to visualize your photos in an enhanced 3D world.
Bring life to your digital photos with this 3D image management system. The tool is enhanced with amazing capabilities to facilitate cross folder actions for easily moving photos from one folder to another, comparing two folders or simply viewing photos from several folders at a time. The tool empowers you to view, edit and share you digital images. Its 3D showroom is the vital part where you can navigate and manage your albums with ease. The powerful Meta (EXIF) editor allows you to; fix, adjust, apply amazing effects, modify tags recorded by your digital camera, and can also create your own tags. With simple photo sharing features the tool can manage shared photos, upload new photos, modify photo details, view and download photos directly to your computer.
Visions is a small, fast, easy to use, and powerful software that enhances your digital photos in an innovative way.