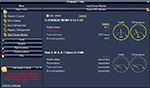 DTweak, the name you can trust on, for tweaking your Windows to get optimized and stable performance.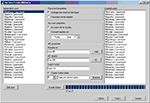 Gouser Bulk Tool is a proper administrator tool capable of Active Directory Handling.


DNS4Me review
Price

$0.00

Publisher
RhinoSoft.com
File size
2477 KB
Date reviewed
8 January 2009

DNS4Me allows you to easily manage web, FTP server, email server and server hosting in an hassle free interface.
As the name itself suggests, this wizard tool can accomplish the task of automatic update of website constantly, and hosting of; web server, mail server, FTP server, or other service available on the Internet. This tool allows you to control all tasks relating to your Web site by running your own HTTP server and all the dynamic DNS services for hosting your own Internet services. This application is very handy for all those who are hosting services with a domain name like; FTP servers, web servers, email servers, daemons for computer games, NetMeeting, and so on. The tool supports features like: dynamic IP address linking, multiple domain support, custom DNS management, in-built mail and web server, offline redirection, and many more.
Manage your data yourself with this flexible tool comprising free email support and a year long free updates.