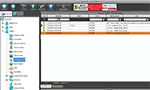 Personal Monitor, this capable software has the ability to monitor user activity that includes activity on social networks too.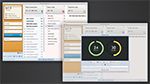 TeamViz for Linux, the effective software is ideal for planning and task tracking, with the help of Pomodoro Technique.


Nebula Business Suite review
Price

$0.00

Publisher
Nebula Computer Software
File size
92158 KB
Date reviewed
1 June 2009

Nebula Business Suite, this perfect solution for small and medium business owners is based on the Windows database-driven interface.
Make your small scale business tasks more simpler with this handy tool. This application makes its easier to manage and monitor the purchasing process, sales, billing, stocks, expenses and contacts. This free version is restricted only for stand-alone PC, single organization, single currency, and database backup. With this application you can easily create: Quotation, Purchase Order, Material Receive, Ship to stock, Bill Payment for your purchases; create Quotation, Customer Order, Delivery Order, Invoice, Ship from stock, Collection while Invoicing; creates Quotation, Sale Receipt, Ship from stock for product sale; monitor Stock In-Out, Stock value; supports Envelope Printer, record query and so on.
The tool also supports Finance Tools that includes: Transaction, Remittance, Receipt, Payment Voucher, Cheque/Check Printer.