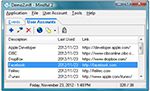 Mindful, the multi-functional tool serves you with an event reminder, password manager and many related tools into a simple system tray application.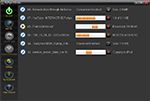 RipTiger Basic, with this smart and handy application it is possible to download videos easily from the web.


Perfect PDF Reader review
Price

$0.00

Publisher
soft Xpansion GmbH & Co.KG
File size
26448 KB
Date reviewed
5 August 2009

Perfect PDF Reader is a handy tool that allows you to open, read, and display PDF files with ease.
Once you place this PDF reader on your Windows you will never replace it with any other similar tool. This amazing tool with its power and capability integrates with all popular Windows and allows you to easily open, read and display PDF files. Using a simple interface for making important PDF settings this tool can export pages from PDF file as images in BMP, GIF, JPEG, PNG, and Metafile format with different resolution. The other features supporting this tool are: prints PDF documents, exports PDF as plain text, supports multiple navigation and display modes, zoom support, rotates pages, allows to easily dispatch PDF files via email, clipboard support, search option, digital signature support, fills, saves and sends PDF forms.
Perfect PDF Reader, this tool with its power and capability is the best alternative to easily open, read and display your PDF files.