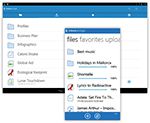 Inbox Storage is the most reliable tool to synchronize all the files or folders in various storage devices that are connected to the network.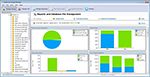 SQL Server Management Software is a multi-functional application for the effective management of your SQL Database.


BitKinex FTP Client review
Price

$0.00

Publisher
Best FTP, SFTP, WebDAV client
File size
8105 KB
Date reviewed
16 July 2010

BitKinex FTP Client, this incredible FTP program integrates the amazing features and functionalities of FTP client, SFTP client and WebDAV client.
You will find no better replacement for this software that allows smoother and safer transfer of files with its FTP client, SFTP client and WebDAV client. With advanced and innovative technology this client enhances several unique approaches and solutions. The key features supporting this application are: it uses multiple connections for file transfers and browsing remote directories, supports indirect server-to-server transfers, robust user request handling, smart messenger like user-interface, flexible configuration, smooth site navigation without freezing windows, auto-detect Windows Proxy settings, Windows Explorer and Internet Explorer integration, synchronized browsing, and much more.
BitKinex FTP Client supports multiple protocols that include: FTP, FXP, FTPS, SFTP, HTTP, HTPS and WebDAV.