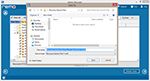 Rescue Deleted is a handy and reliable tool for guaranteed rescue of deleted or lost data from your personal devices.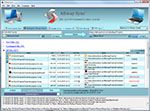 Allway Sync will do all the major tasks in synchronizing PCs, local, network or removable files and folders.


Staxofax Lite review
Price

$0.00

Publisher
Staxofax com
File size
5000 KB
Date reviewed
26 March 2012

Staxofax Lite, this useful tool is capable of keeping stored email addresses, web sites, phone numbers, photographs, and other items.
This simple and handy application helps you to keep stored your: mail addresses, email addresses, web sites, phone numbers, photographs, notes, screen shots, graphics and text items that may have been scattered all over in different files. In case of any application change or disk failure, this information and data track usually gets lost. But this amazing program provides a multi-level and multi-user access to your information to keep, use, and backup in one simple app that runs from your USB plug in flash drive. All the web address saved is converted as bookmarks that will fetch the site no matter which browser you use. Saved email addresses can launch your email client with address entered, and saved phone numbers can be dialed using the Windows phone dialer.
Staxofax Lite allows you to take all your information with you and use it on any computer, anywhere.