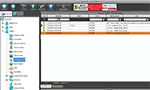 Personal Monitor, this capable software has the ability to monitor user activity that includes activity on social networks too.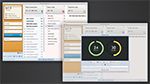 TeamViz for Linux, the effective software is ideal for planning and task tracking, with the help of Pomodoro Technique.


Text Template Parser review
Price

$17.50

Publisher
Nsasoft US LLC
File size
1962 KB
Date reviewed
4 March 2014

Text Template Parser is a smart unique software with the ability to extract and parse data from any sort of documents, web pages, emails, and so on.
Enhanced with a simple user-interface, this handy data processing automation tool is capable of parsing and extracting data from any sort of documents, web pages, emails, orders, support enquiries or feedback forms. This program makes it easier to extract data from complex text files and save them as Tab Delimited Txt File (.txt), CSV Comma Delimited (.csv), Excel Workbook (.xls), Access Database (.mdb), Web Page (.html) or XML Data file (.xml), print or copy all to clipboard. Extracting data with this application can be done by simply: right clicking on extracted data list and choose appropriate option, provide paths to data and template files, push "Parse Data" button, and follow accordingly.
Text Template Parser, the all-in-one solution to cater you needs of quickly extracting and parsing data.