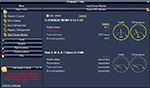 DTweak, the name you can trust on, for tweaking your Windows to get optimized and stable performance.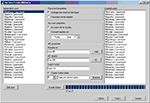 Gouser Bulk Tool is a proper administrator tool capable of Active Directory Handling.


Web Log Explorer Lite review
Price

$0.00

Publisher
Exacttrend
File size
5312 KB
Date reviewed
9 February 2015

Web Log Explorer Lite, the smart and easy software with the ability to generate detailed and dynamic log reports of your website.
With this exclusive log analyzer tool it is possible to generate dynamic reports that allows you to explore deep into your website data. This explorer provides the ability to carry out deep analysis of visitor activity to give details like: file access statistics, and information about referring pages, search engines, errors, visitor countries, referring sites, complete information about search words and phrases, and more. This tool supports features like: interactive web server log analyzer, sending reports via emails, parsing search phrase encoded in UTF-8 char set, can recognize log file formats automatically, can process multiple log files, and download log files from various sources: Web, FTP, ODBC compliant databases, and much more.
This application can also: recognize log file formats automatically, read GZip(gz), Zip and Bzip2(bz2) compressed logs.