Firewall Fortify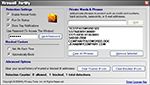 Outsmart the greatest and the latest internet attacks with Firewall Fortify the all-rounder Internet security tool.
Directory Security
Directory Security, provides absolute privacy and security to your private data by keeping them hidden.
Reviews newsletter
Advertise at Free Downloads Center
Right now we are interested only in major strategic advertisers.
Please, fill out our contact form if you feel we might have a mutual beneficial partnership .